Una bici de All-mountain - Enduro que té molt bona pinta, segons comenten funciona molt bé, encara que és una mica feixuga (tenguem en compte que està montada a prova de bombes)
Aquí teniu ses fotos i test de Pinkbike. Per cert, és una 26", i sí, no oblidem que també funcionen molt bé ;-)
REVIEWED
Devinci Dixon RX
WORDS
Jordan Carr
PHOTOS
Colin Meagher
Canadian brand Devinci may be best known among mountain bikers for their recent World Cup downhill overall title that was delivered by Steve Smith on his Wilson Carbon, but much of the Wilson's technology, including the Split Pivot concentric axle pivot design can also be found on the more compact Dixon RX that's tested here. In fact, Smith chose to run the 145mm travel Dixon rather than his downhill bike on the tame Sea Otter DH track for the last two years running, as well as in Crankworx's Air DH race in the past. The $4599.99 USD RX model is fitted with a 160mm travel FOX 34 CTD Talas fork that offers 10mm more travel over what's fitted to the standard Dixons, as well as a 780mm wide Truvativ BooBar that's considerably wider than what is found elsewhere in the lineup. Those two talking points certainly make the RX model more appealing to aggressive trail riders who may or may not find themselves on some hairy terrain every now and then, although there is also a frame only option if you are wanting to build up a Dixon to be even more tailored to your needs. Looking to spend a little less? The base model aluminum Dixon retails for $2699 USD and still employs the same suspension layout.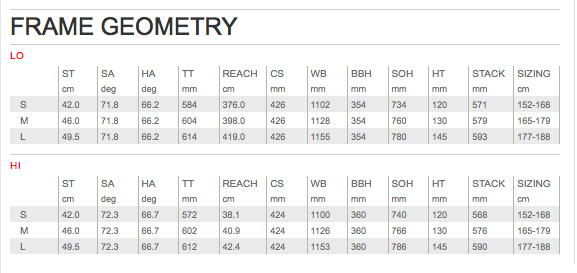 • Intended use: all-mountain
• Wheel size: 26''
• Split Pivot suspension design
• Rear wheel travel: 145mm
• Carbon front triangle and seat stays, aluminum chain stays
• SRAM dual ring X9 drivetrain
• Weight: 30.4lbs (size med, w/o pedals)
• Sizes: small, medium (tested), large
• MSRP: $4599.99 USD
Dixon RX Construction Details
Devinci's DMC-G carbon manufacturing combines bladder molding with silicone inserts to create more strength through consistency at complex junctions such as the bottom bracket and head tube areas, with the inserts working to evenly apply pressure that is said to greatly limit voids in the carbon layup. The silicone inserts are removed from the frame once the process is complete, and Devinci boasts that this process creates a flawless frame inside and out time and time again. Regardless of their confidence in carbon, the Dixon utilizes aluminum chain stays as the weight savings on this frame component would be minimal when done in carbon, and it is also an area that can see a lot of abuse when a bike is ridden hard.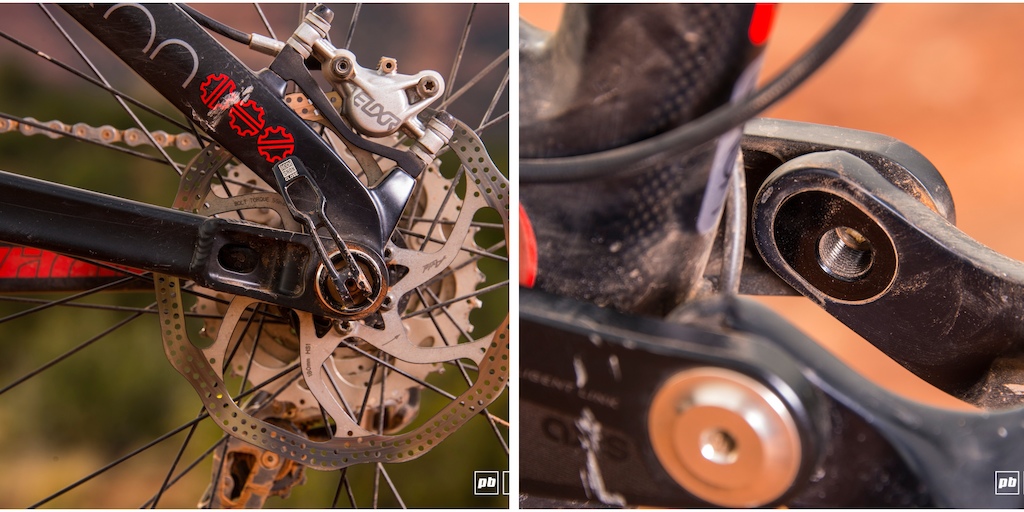 The bike's Split Pivot suspension sees it rotate concentrically around the rear axle (left), and offset chips used in the pivot hardware on the rocker arm (right) allow for geometry adjustment.
To give the Dixon maximum versatility, Devinci chose to allow for an adjustment in geometry between "LO" and "HI" settings. This adjustment is done via a 4mm bolt on Devinci's FRG suspension chip, the hardware that ties the seat stay and rocker link together, and is responsible for half of a degree in the head angle, 66.2° - 66.7°, and 6mm of change in the bike's bottom bracket height. Cable routing is kept clean with the lines for the rear derailleur and rear brake running along the top of the down tube, while the front derailleur and Reverb hose are on the underside of the top tube. Up front, a tapered head tube adds to the stoutness of the Dixon's aesthetic while housing an internal zero stack Cane Creek headset. Subtle touches like uniquely shaped carbon tubing and an integrated headset give the Dixon a clean polished look. ISCG tabs that feature replaceable threaded barrels allow for an easy chain guide install and some extra peace of mind if you happen to over-torque the bolts.
Suspension Design
As a proclaimed enduro/trail rig, the Dixon is undoubtedly designed to offer a balance of efficiency and burly capability, and for this Devinci chose to utilize Dave Weagle's patented Split Pivot suspension design. Split Pivot refers to a concentric rear axle pivot that helps to separate acceleration forces from braking forces in the suspension design. This type of layout is based on careful pivot placement to reduce excess suspension reaction to acceleration forces, and at the same time reduce excess reaction to braking forces. The Dixon was also specifically developed to work with available off-the-shelf shocks, so no custom shock tunes are required to get the best out of the bike.
---
Climbing and Fit
Though it boasts a stout wheelset and meaty 2.35'' Schwalbe Hans Dampf tires, we were pleasantly surprised with the Dixon's readiness to climb, although the bike did benefit from use of the RockShox Monarch RT3's on the fly compression adjustment when things smoothed out. This isn't uncommon on a bike in the Dixon's travel bracket, and we found ourselves utilizing the shock's middle compression setting for most smooth climbs and rolling terrain.

Out of the saddle climbs benefited from utilizing the Monarch's on the fly compression adjustment to gain maximum efficiency, and the lever was in an easy position to reach down and flip.
Technical climbing is where we found the Dixon to be most at home when headed upward, something that we were admittedly surprised with given the common assumption that bigger diameter wheels rule in such situations. The Dixon made short work of tricky switchbacks, and the ride position placed us nicely within the wheels, making it predictable and responsive, a feeling that was aided by the bike's 360mm bottom bracket height that allowed us to maneuver through such sections without having to stop turning the pedals over. Short 424mm chain stays also gave us confidence on steep, loose pitches where our weight was positioned nicely over the rear wheel. The 26" wheels did struggle a bit when ledgey terrain was encountered, though, with the bike losing momentum when faced with a particularly stepped section of trail. Once on smooth singletrack or jeep road ascents, the Dixon's weight became a bit more noticeable when compared to a lighter duty 145mm trail bike, although it should be said that most of those lighter duty rigs don't feel nearly as solid when the trail turns downward. As we pedalled our way up numerous gravel climbs it was quickly clear that the Dixon does offer comfortable geometry for those long seated ascents, and the cockpit offered what felt like perfect length, especially when combined with the 780mm BooBar.
Descending / Technical Terrain
Aiming the Dixon RX through some rowdy downhills was our first order of business given the bike's burly stance. We knew how well other axle-concentric suspension designs have performed recently, so we were excited to spend some time pushing the Dixon to its limit, and our first decent ride on the bike was on a technical trail in Sedona, Arizona, which offered mainly slower speed do-or-die sections with a few short spots that allowed us to open the bike up a bit. At medium speeds the Dixon was well versed and allowed us to come through rolling technical portions with relative ease, another welcomed attribute of its 360mm bottom bracket height when set to the HI mode, although maneuvering through tight switchbacks took a little more effort than we would have preferred when the speeds dropped. It seems the bike's short chain stays and higher bottom bracket made balance a bit more of an issue when slow, tight turns were encountered.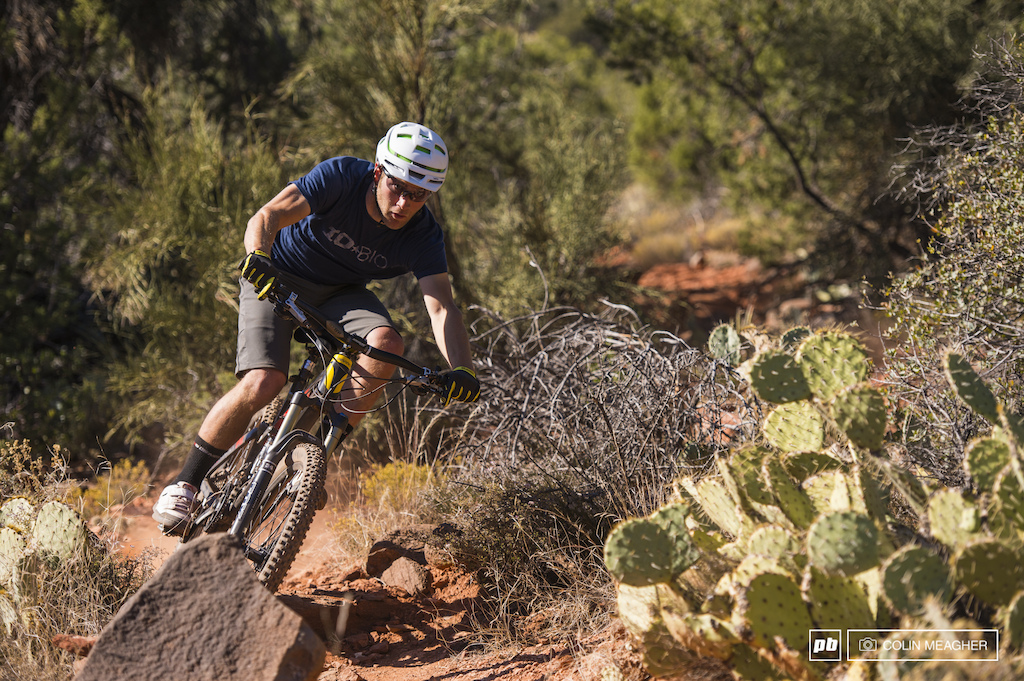 Descending was predictable and was most enjoyable when the Dixon was setup in its 'LO' geometry mode.
Swapping the Dixon from HI to LO geometry mode was as simple as unscrewing a 4mm allen screw and rotating the FRG pivot hardware, and although half of a degree change in head angle and a 6mm lower bottom bracket height may not sound like much, it made an appreciable difference in the bike's handling. In fact, we ended up settling on the LO setting, a choice that brought out the Dixon RX's capabilities on the faster downhill sections. Given how confident the bike's low, slack geometry made us, the 145mm travel carbon bike was a little harsher than we would have preferred, although we do suspect that the 160mm travel fork might have been contributing to a slightly unbalanced feel. And while the rear of the bike might not have been the most forgiving, the entire package did feel incredibly solid when things got rough - this isn't a machine that feels as if it will rattle apart under a heavy or fast rider. Changing the bike to the LO setting created a potent package that seemed tailor made for tight downhills that require constant finesse and commitment, as well as continued power put through to the pedals.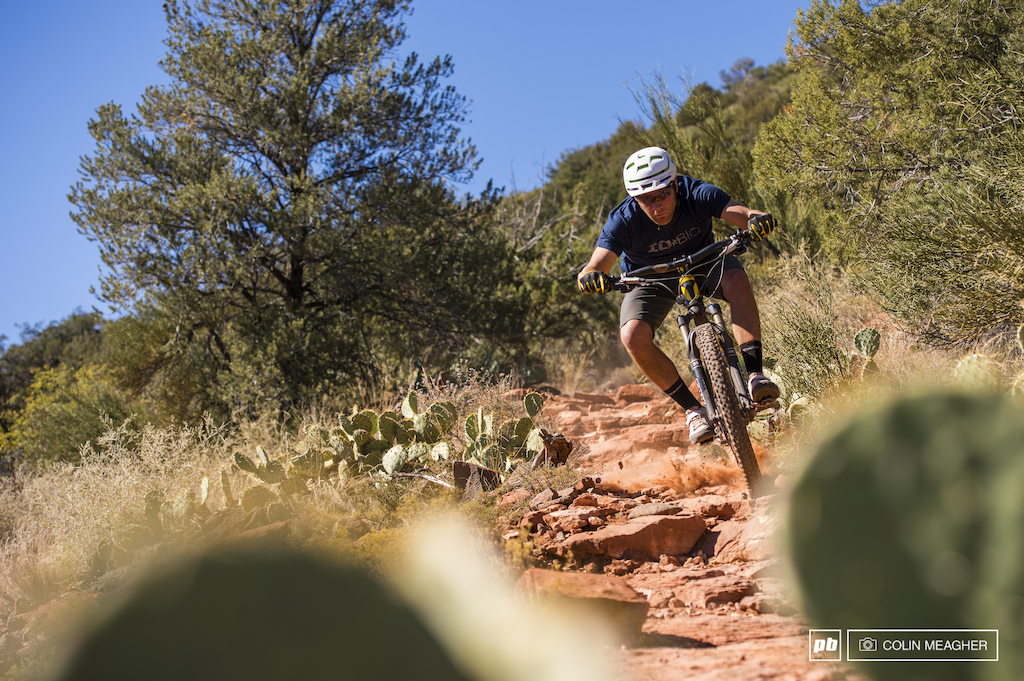 The bike is incredibly solid through rough, rocky terrain, although not as forgiving as some other options.
Component Check
Our Dixon RX Test bike was outfitted with SRAM's X9 2 x 10 drivetrain, which after spending most of our time aboard single ring drivetrains lately took a bit of adaptation time on the trail, but proved to be a smart spec given the bike's intended usage and the steep sections of trail we pointed it up. An X9 Type 2 clutch derailleur helped keep drivetrain noise to a minimum, but we did still experience the usual drivetrain clatter that one associates with a dual 'ring setup. Avid's Elixir 7 brakes offered up a good amount of stopping power and adjustability, and it's worth noting that they felt firm and consistent right out of the box, not something that is always guaranteed. The wheelset is a combination of Mavic E321 hoops paired with Sram X9 hubs and Schwalbe Hans Dampf tires, a setup we found to be substantial enough for heavy trail use and that never gave us a hint of trouble.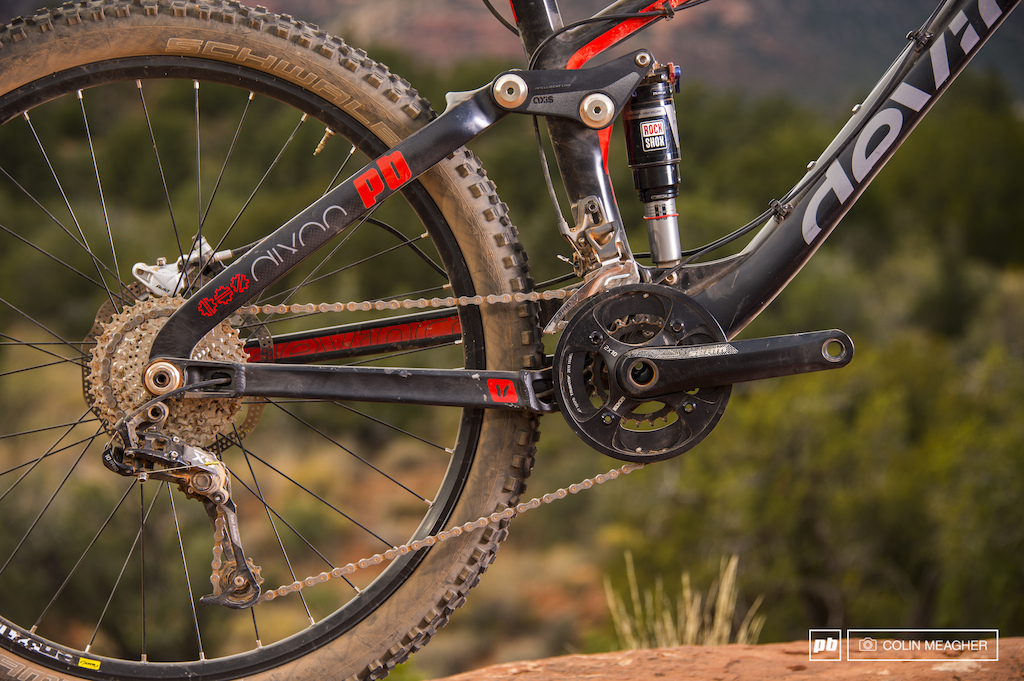 A full SRAM X9 2x10 drivetrain offers durable versatility for a variety of terrain but was a bit cumbersome after spending most time aboard 1x systems.
• Schwalbe tires: The Hans Dampf tires connect the Dixon with the dirt quite nicely. The tried and true 2.35" rubber offers a burly rounded tread pattern paired with Schwalbe's tacky Trailstar compound that creates predictable cornering traction and excellent braking. As usual, nothing to complain about with Schwalbe's top tier rubber.
• RockShox Reverb: Hard to really call it a trail bike without a dropper post, and the Reverb rounds out this build nicely by providing reliable saddle height adjustment with the push of the bar mounted remote.
• Truvativ BooBar: With the recent emergence of wide bars on the trail market, many manufacturers have been slow to realize how important bar width is to overall bike feel. Devinci did it right, though, by spec'ing the 780mm wide BooBar.
Pinkbike's take:
Trail riders looking for a solid feeling bike to allow them push the envelope will be fans of the burly Dixon. No, it isn't the most forgiving trail bike on the market in terms of rear suspension performance, but the 145mm travel bike offers class leading rigidity that will greatly boosts a rider's confidence, and we'd recommend the bike to an aggressive rider who might not have had much luck with other bikes of similar travel. It is also a machine that proves 26" wheels still have a place in our hearts and on the trails, with it displaying solid technical climbing prowess and a well-versed, functional personality. Devinci obviously feels the same way because the Dixon platform will continue to utilize 26" in 2014, a decision that is in contrast to much of the industry, but one that we can't blame them for making.

- Jordan Carr
www.devinci.com