Uns critiquen, altres adoren i altres van perduts. Qui ho ha provat, sap que funciona, sobretot si es fabricant té idea ajustant geometries.
Alta velocitat 29", geometría compromesa per mantenir agilitat i 160mm de recorregut. Això és s'Enduro del 2014.
Disfrutau des test fet per Pinkbike, i si no enteneu anglès, mirau bé ses fotos ;-)
Intense
originally released the Carbine, their first carbon fiber full suspension bike, at the tail end of 2011. This initial version rolled on 26" wheels, but it was soon followed up with conversion kits that allowed riders to switch to 27.5" wheels, and then a dedicated 27.5" wheeled model hit the market. Now, Intense has released the 29" version, sporting up to 5.5" of rear travel, a 160mm fork, and intended to take on just about any type of trail imaginable. Available in S, M, and L sizes, the Carbine 29 retails for $6599 USD.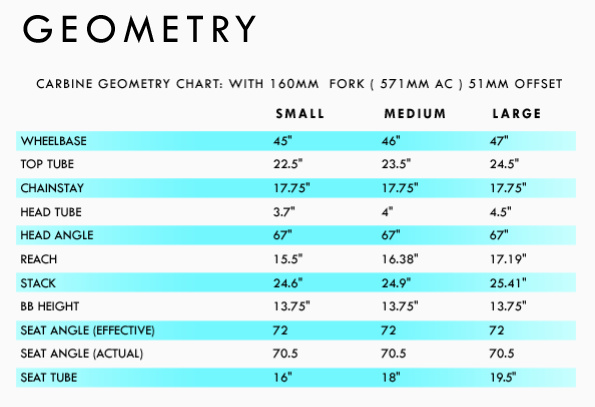 Intense Carbine 29 Details

• Purpose: trail / all-mountain
• Rear-wheel travel: 5 or 5.5"
• Wheel size: 29"
• Full carbon frame, aluminum links
• 12 x 142mm rear axle
• ISCG 05 tabs
• Weight: 28.6 lbs (size M, without pedals)
• Sizes: S, M, L,
• MSRP: $6599 USD
Frame Details
The Carbine 29's front and rear triangle are constructed from carbon fiber, and are connected with two short aluminum links. While Intense's aluminum framed bicycles are still made in the United States, the company worked with SEED Engineering, a German firm, to design their line of carbon bikes, and the actual manufacturing of the Carbine's frame takes place in Asia. The amount of rear travel can be switched between 5 and 5.5" by changing where the rear shock is mounted on the upper link, an adjustment that doesn't affect the bike's geometry. The linkages rotate on angular contact bearings, and there are Zerk fitting on the lower link to allow old grease to be purged out and replaced with fresh, clean grease.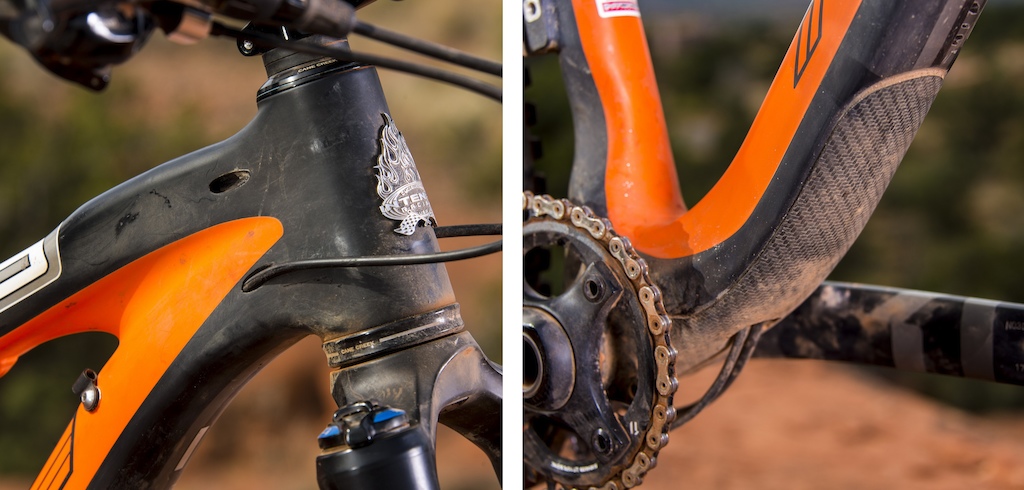 Internal cable routing keeps the bike looking neat and tidy, and a down tube protector helps ward off flying objects.
The majority of the housing on the Carbine is routed internally, and sealed nylon tubes are located inside the frame to make installation as easy as possible - no more fishing around with a bent spoke and a flashlight trying to coax out a stubborn length of housing. The frame is also equipped to accept a direct mount front derailleur, and ISCG 05 tabs are in place for riders who want to use a chain guide of some sort. Replaceable rear dropouts allow for different hub standards to be used, although we're not sure why anyone would choose go with an open dropout rather than a 12x142 thru axle.


Avid's Trail 9 brakes handle the stopping duties on the Carbine 29, and SRAM's X01 drivetrain does away with the front derailleur or any type of chainguide (although the frame does have ISCG 05 tabs).
VPP Suspension
The Carbine 29 utilizes a VPP suspension layout, a dual short link suspension design that relies on two counter-rotating links (
the upper link moves counter-clockwise while the lower link moves clockwise
). The position and design of these short links can be altered to allow this suspension design to be used on everything from cross-country bikes to downhill race machine. For a bike like the Carbine 29, the suspension curve is intended to provide a firm pedalling platform with a supple midstroke, and a slight ramp up at the end of the travel.
Specifications
Price
$6599
Travel
140mm
Rear Shock
Fox Float CTD
Fork
RockShox Pike RCT3 29 160mm
Headset
Cane Creek 40 Series
Cassette
SRAM XG 1195 10/42
Crankarms
SRAM X01 175mm
Bottom Bracket
SRAM BB92
Rear Derailleur
SRAM X01
Chain
SRAM XX1
Shifter Pods
SRAM X01 trigger
Handlebar
FSA SLK Carbon 740mm
Stem
Thomson Elite X4 70mm
Grips
Intense lock-on
Brakes
Avid Elixir 9 Trail
Wheelset
Novatec Diablo 29
Tires
Maxxis Highroller II
Seat
Intense Velo Sacred Heart
Seatpost
RockShox Reverb Stealth 125mm
---
| | |
| --- | --- |
| | As the saying goes, 'a quiet bike is a fast bike,' and this is where the Carbine delivers...There's no chain slap, no front derailleur noise, nothing except the howl of the wind as the speeds increase. |
Climbing / Handling
Our review bike arrived the day before a local enduro race featuring 5000 feet of vertical spread over twenty mile of sinuous, root filled trails. We managed to sneak in a short, hour long loop once we assembled the bike to make sure everything was working correctly, but race day would be our first 'real' ride on the Carbine 29 – nothing like a little trial by fire to start figuring out a bike, right? It turned out we didn't have anything to worry about – the Carbine was well behaved, and during the race it felt as if we'd been riding it for weeks, not hours. That was the trend for the duration of our time aboard the bike - it has a blend of handling characteristics that make it feel predictable on nearly any type of terrain.
When it came time to climb, the Carbine proved to be adept at maintaining traction, even on trails with loose rocks over hardpack, and we found that the bike's relatively long wheel base (
1168mm for a size M
) allowed us to stay seated longer than usual in technical sections, since the bike was able to span the distance between obstacles that would typically halt a shorter, smaller wheeled bike. On the flip side, this length does mean that the Carbine's agility does suffer in extremely slow speed, technical sections, but the bike's fairly light weight goes a good ways towards counteracting this. The VPP suspension layout worked well at preventing any unwanted pedaling induced suspension movement, and the only time we flipped the lever on the Fox Float CTD rear shock was for long fire road grinds.
When we swapped out the Fox Float CTD to the Cane Creek DBAir (
a swap we'll be explaining shortly
), we typically activated the Climb Switch for nearly every climb, due to the greater difference between how the bike handled with the switch on or off. With the Climb Switch in the off position there was more rear suspension movement than we preferred, especially when standing out of the saddle. It's likely we could have added more low speed compression to counteract this, but we'd rather have the shock's full open position tuned for the downhills, and have the Climb Switch take care of the uphills.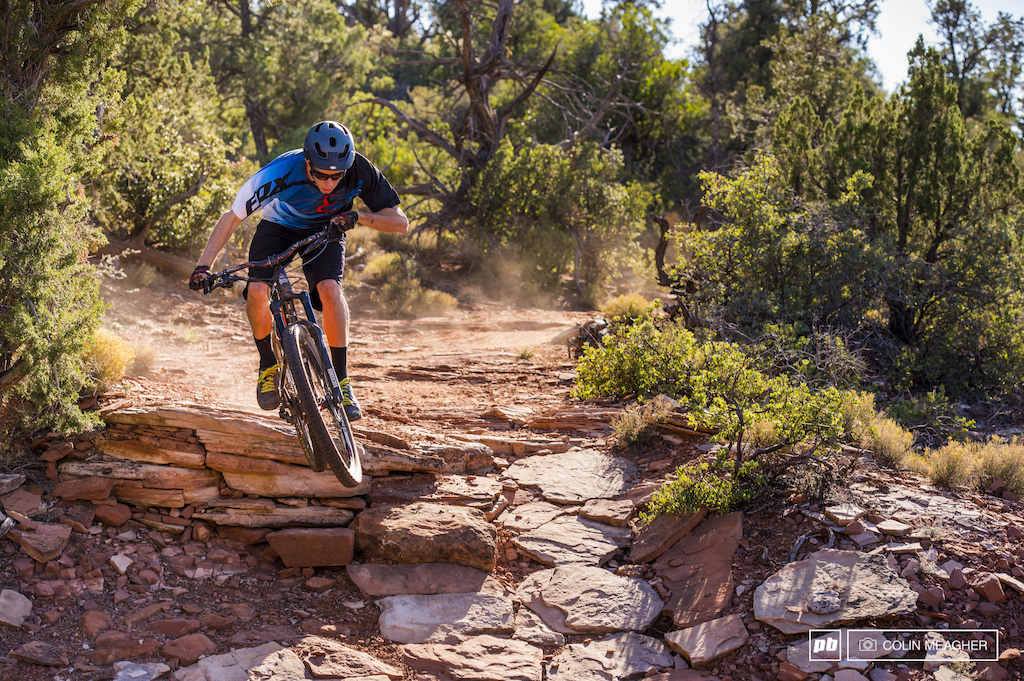 The Carbine 29 wasn't afraid to get airborne, especially on straight ahead, higher speed jumps or drops.
Descending
As the saying goes, 'a quiet bike is a fast bike,' and this is where the Carbine delivers. With a 1x11 drivetrain, clutch derailleur, and an integrated chainstay protector, the only noise you'll hear when flying down a hillside is the freehub clicking. There's no chain slap, no front derailleur noise, nothing except the howl of the wind as the speeds increase.
The bike's slack (
for a 29er
) head angle allowed us to make short work of the steep sandstone rock rolls around Sedona, while the big wheels helped to take the edge off of moves that had less-than-smooth runouts. The Carbine does lose some of its playfulness when the going gets tight and twisty, and we found ourselves wondering if Intense's dedication to the VPP suspension platform may have forced them into a corner when it comes to frame geometry. Other manufacturers have been able to come out with long travel 29ers with short chainstays and low bottom bracket heights, but the positioning necessary for the two short links on a VPP suspension layout make this more radical geometry difficult to achieve. That's not to say that the Carbine is overly cumbersome; we were able to negotiate plenty of tight, rocky chutes and down steep switchbacks without trouble, but we did wonder if shorter chainstays and a lower bottom bracket would boost the Carbine 29's fun factor, making it easier to dive in and out of corners and to pop off little trail side bonus features.
Despite the subdued handling in slower speed terrain, when it comes to long straightaways this bike excels, taking off like it was shot out of a cannon. The same handling traits translate to its jumping ability as well – more technical jumps, a tight hip jump for instance, take extra effort to negotiate, but when it comes to jumps that can be approached head-on, the Carbine will go the distance, making it easy to land deep into the transition.
Shock Swap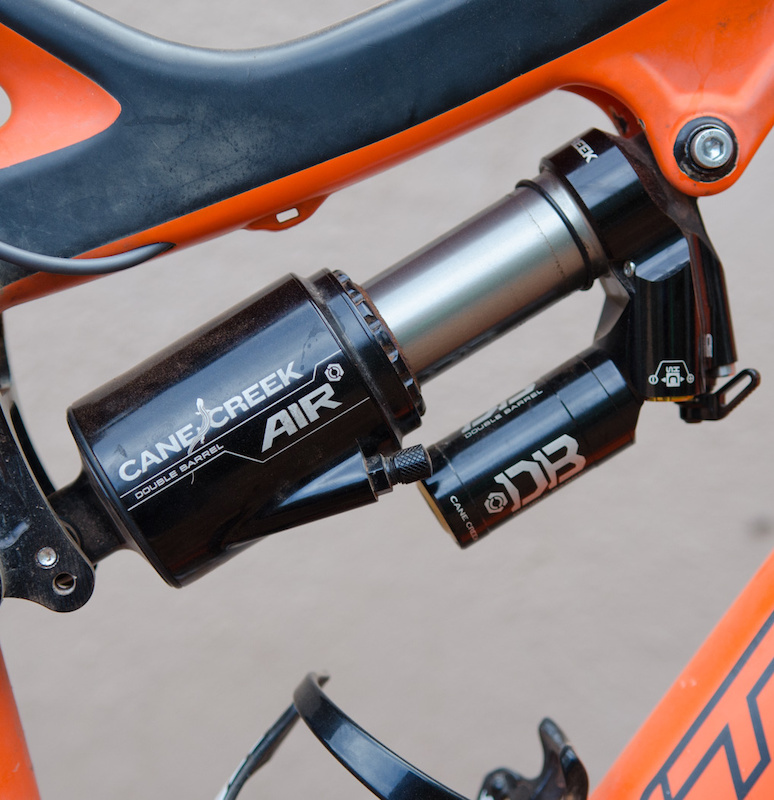 Switching to the DBAir greatly improved the Carbine's
downhill performance.
Our test bike was delivered to us with a Fox Float CTD Adjust rear shock configured with a low velocity tune and a medium rebound tune, settings that Intense developed specifically for the Carbine's suspension design. Despite the custom tune, we weren't blown away by the bike's square edged bump performance, and found that on sections of trail with repeated impacts in a row, whether from a tangled mess of roots or a row of pointy ledges, the rear end felt like it wasn't going through enough of its travel, making for a rather harsh ride. We spoke with Intense about our findings, and they sent out Cane Creek's Double Barrel Air CS rear shock (
a $350 upgrade
) to see what we thought. We installed the DBAir and set it up with the
recommended base tune
, and hit the trails. This shock swap made a world of difference, creating a smoother, more controlled ride through the rough stuff. The switch to the DBAir made the bike's rear suspension feel better matched to the RockShox Pike up front, a supple, yet supportive platform perfect for taking on the most rugged of trails. We stayed fairly close to the initial base tune settings, with a slight decrease in the rebound damping the only tweak needed to make the bike feel like we wanted.
The CS switch on the DBAir came in handy for the countless punchy, technical climbs we encountered in Sedona. A flip of the lever alters both the low speed rebound and the low speed compression, creating a firmer feeling shock that wants to stay glued to the ground, ideal settings for climbing. There's a big difference between having the CS lever on and off, and despite our hesitance towards adding more levers to a bike's cockpit, we'd love to see the hinted-at remote lever for this shock come to fruition. Rather than blindly reaching down to find the little shock mounted lever, a small handlebar remote would add even more versatility, and would certainly be welcomed by riders whose local trails include multiple short climbs and short descents in a row.
Component Check
• Maxxis Highroller II tires –
Although not the fastest rolling option, we don't have any complaints about using the Highroller II as a rear tire. It has good braking traction and excellent grip in the corners, and worked well in both the trails of the Pacific Northwest and the Arizona desert. We would rather have something else in the front, though, especially in the wet, where the tire's square profile wanted to slip and slide on every wet root we ran across, even when running it tubeless with low pressure.
• RockShox Pike –
The Pike ended up on our
Best of 2013
short list for a reason – plush, stiff, and reasonably light, this fork sets the standard for what a modern suspension fork should feel like.
• SRAM X01 drivetrain –
We didn't suffer any dropped chains during our time on the Carbine, even on a ride when the clutch on the X01 rear derailleur stopped functioning. Although the clutch isn't intended to be user serviceable, we were able to carefully pry off the plastic cap and add more tension, a fix that worked for the remainder of our testing. Still, while we were able to get the clutch working again, for a derailleur that retails for just shy of $300 we'd expect it to last longer without needing our attention, or at the very least have a design that allows for easier maintenance.
• Novatec Diablo wheels –
There weren't any issues setting up the wheelset tubeless, a necessity for desert riding. We did manage to knock a couple of spokes loose on the rear wheel, but this was after a harsh landing onto solid rock, and despite the de-tensioned spokes, the rim managed to emerge unscathed. Some quality time on the truing stand was all it took to straighten things out, and the wheel held up for the rest of our time on it.
Pinkbike's take:
| | |
| --- | --- |
| | The Carbine would be well suited for a rider that wants a longer travel 29er but doesn't want to lose the handling characteristics of a trail bike. It has that extra bit of travel that can be the difference between surviving a botched line or ending up having an off-the-bike experience, but without conveying the feeling that it's too much bike for riding less rowdy terrain. We would highly recommend springing for the Cane Creek DBAir upgrade, especially for riders who place more of a priority on the downhill portion of their ride. The swap to the DBAir allowed us to unlock the bike's true potential and achieve the ride feel we were looking for on the descents. In the end, although it may not push the envelope as far as geometry numbers go, the Carbine 29 is still quite versatile, a bike that's capable of just about any type of riding imaginable, everything from leisurely trail rides to rocketing down steep and loose downhills. - Mike Kazimer |